On writing the title 'Kitchen Chaos' I've realised it's quite apt as this is what my kitchen currently looks like below; temporary wall, massive hole in the floor… chaos! This blog post is not about my never-ending renovations however. It's about how to avoid the chaos when you're cooking and how to work neat and calm, which tends to result in food made with love not frustration!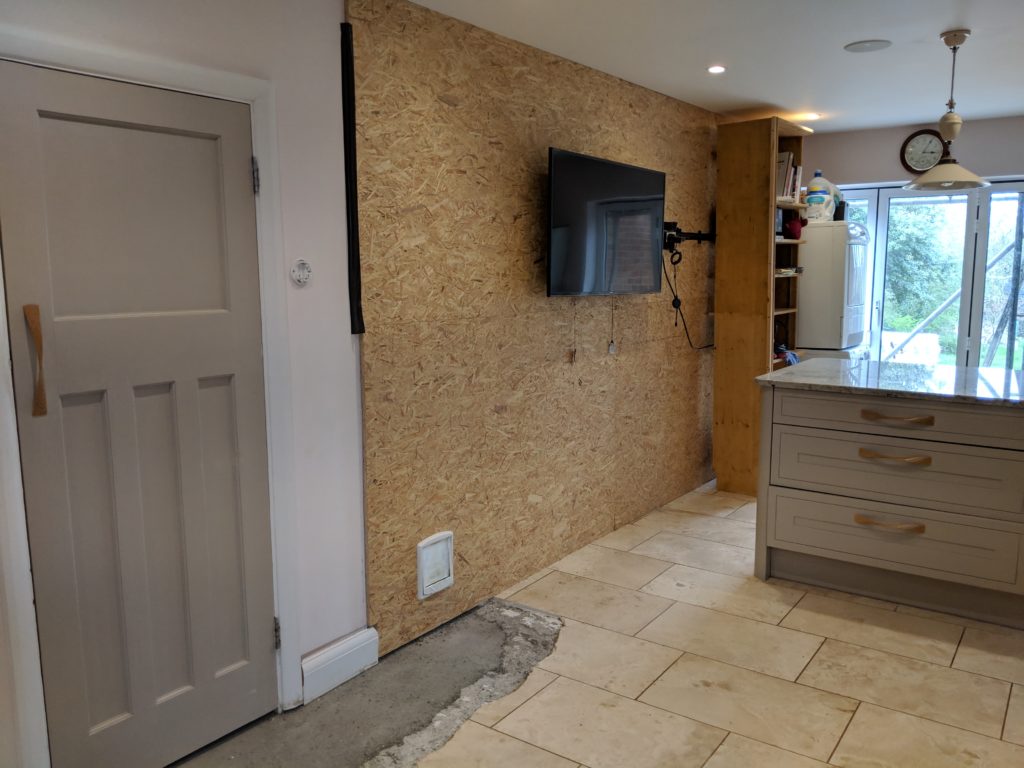 This may seem like an odd topic for my first Rachel's Apron blog, but it's something I find relevant whether I'm cooking a mid-week meal for two, in the middle of an epic bake testing session, or teaching patisserie to a class of a dozen people. This may be because I'm an oxymoron of a person (oxymoron, not moron!) and while I am known for being super organised I am also quite clumsy as I tend to rush about doing too many things at once. If you're anything like me then you've got at least four self-improvement focuses going on at any time, and one of mine is currently to take my time over the little things, like carefully stacking the dishwasher – not just chucking it all in and chipping half the plates as I do!
This tendency to rush changed during my culinary diploma, I was still occasionally clumsy (I did launch my first bread dough of the diploma straight on the floor!), but I was there to focus on the food and so all of the distractions tended to melt away allowing me to be more methodical and less hasty, which made my food better. In addition to this the kitchens there are set up so that it's easy to work in an organised and clean way so long as you take the time to do so.
So that leads me to my first tip – set your station for success. There are a few things I always have out ready before I start baking or cooking; a few small plastic bowls or takeaway tubs to put your prepped ingredients into and a larger bowl for rubbish. If I'm using a chopping board I will always place a non-slip mat underneath and I'll have a tall container to place my utensils in so I know exactly where they are when I need them again. This is a fairly recent one for me but it really made a difference, as it keeps things together and out of the way.
The second tip is – if you feel like you are slipping into chaos, reset yourself. I have to tell myself this one quite often! If you realise mid-way through spooning a mixture that you're using far too small a spoon, it is quicker to get a bigger spoon than struggle on regardless. I often tell a class this when they're piping; if the piping bag starts feeling awkward then reset the way you're holding it so that you feel under control. Messy piping bags don't help you to produce beautiful patisserie! This also applies to when the washing up starts piling up. If you really don't have time to wash up then do your best to neatly stack it out of the way. If you leave things out then your working space slowly shrinks as the chaos around it grows.
My final tip is – plan your time. Now I appreciate that may seem like overkill for a midweek meal, but your planning can be scaled for the size of the job. If you're doing a quick dinner you would still check to see you have all the ingredients before you start (I hope!) and if you invite ten people over you probably need to start thinking about it a few days in advance. If you take the time to plan what you're cooking then it's more likely to go smoothly and feel less stressful, because let's face it no-one enjoys stressing while cooking (I can highly recommend not putting yourself through culinary diploma exams!). Prepping should consist of writing a menu, a list of the elements you need to make, and a breakdown of what order you'll need to do them in with time estimates if it's a longer list. Remember to consider cooling, setting, and baking times. It's no good planning to bake four things at once which all need to be done at different temperatures (unless you happen to have four ovens, in which case can I come teach at your house please!?).
The joy of my job is that I get to teach people who have taken the time out of their usual routine to come and learn. It's my job to make it fun and interesting and in order to do so I always keep these three points in mind:
Plan your time!
Set your station for success!
If you feel like you're slipping into chaos, reset yourself!