Welcome to Rachel's Apron, the home of my cooking classes in Oxford, Oxfordshire. 
I run classes from my home in Cumnor, West Oxford so that you can enjoy a relaxed atmosphere with demonstrations, hands on baking, and plenty of time for questions and laughter! The kitchen is airy and spacious and perfect for a small group class or a private one-to-one. 
I sometimes refer to my cookery classes as culinary skills classes because they all revolve around one simple idea; I want to teach you a set of skills which you can transfer to many other recipes as well as the ones you will cook in the classes. With these skills you'll be able to develop your confidence and understanding to keep advancing in whichever areas of cooking interest you.
All classes are hands on and you'll be able to take home your creations as well as the recipes. Digital copies of the recipes will also be sent out after class just in case the printed ones get a little worn out! I will demonstrate the complicated steps first, so that you have time to watch, ask questions, and take notes if you like before you start getting your hands dirty.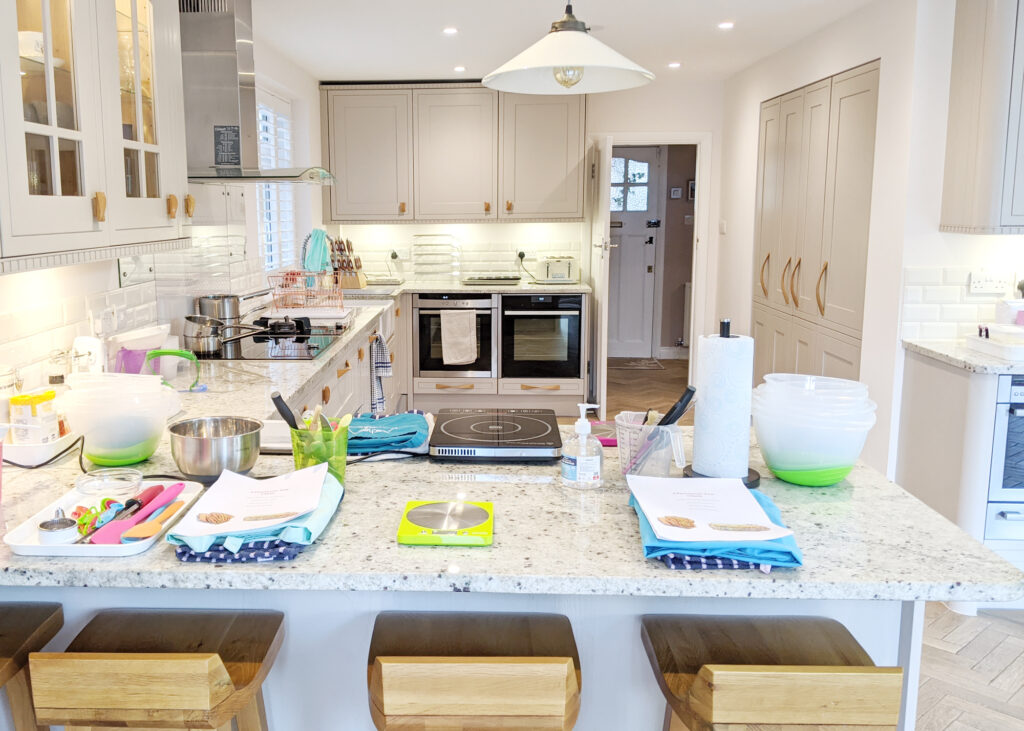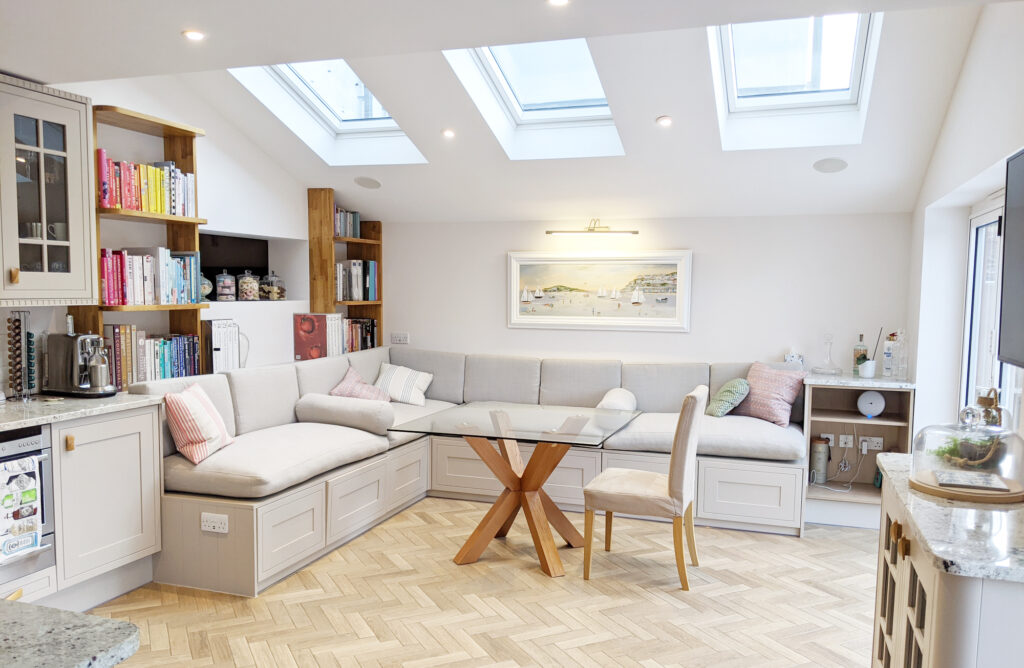 I am a passionate foodie, I love the creation of delicious food from beautiful ingredients, and nothing makes me happier than to ignite that same passion in others. I have dreamed of working in the food industry for most of my ten-year career in the motion capture technology industry. After attending a weekend class at Ashburton Cookery School in 2009 I had a strong desire to return to complete their Chefs Diploma, the highest level of practical culinary qualification. In the meantime, I attended as many cookery classes as possible on a wide range of cuisines. All of these further ignited my passion for learning about food and sharing that learning experience with others.
In 2017 I was able to fulfil my dream and temporarily moved from Oxford to Devon to complete my culinary adventure (much to the delight of my husband!). After a very life changing six months at Ashburton Chefs Academy I was awarded my CTH Level 4 Diploma in Professional Culinary Arts in December 2017.
Since graduating I returned to Oxford and was very fortunate to gain experience working with Sophie's Cookery School, The Real Macaron Company, and Honesty Cookery School.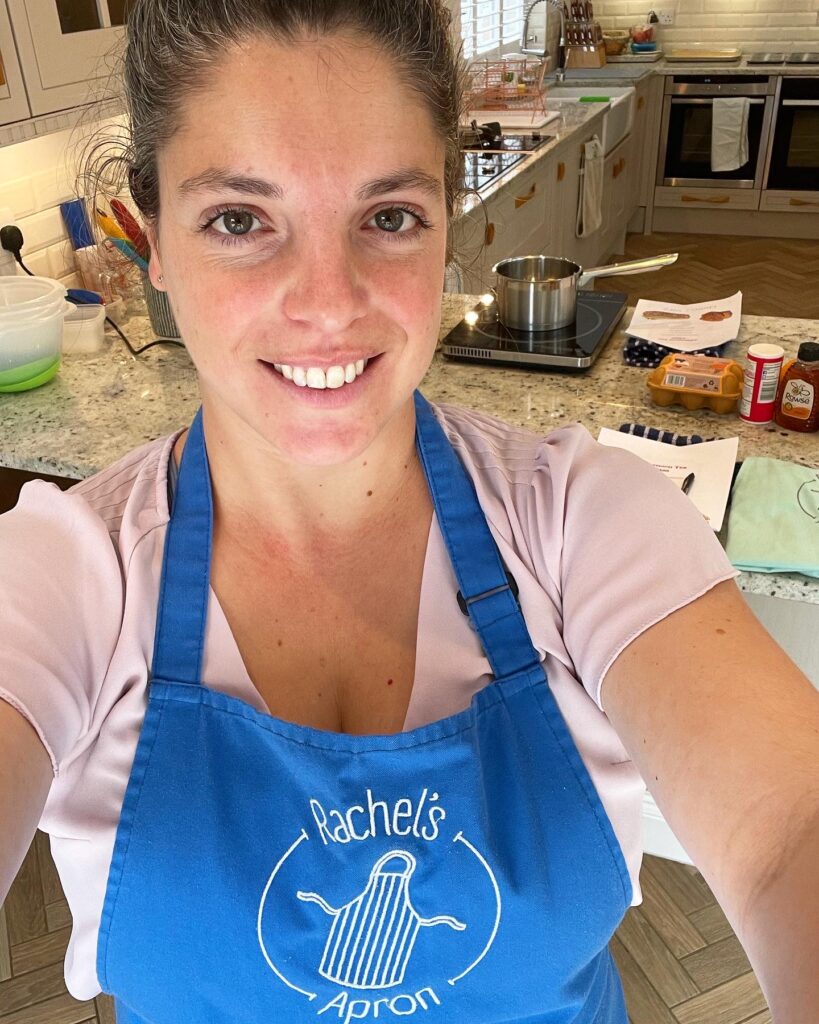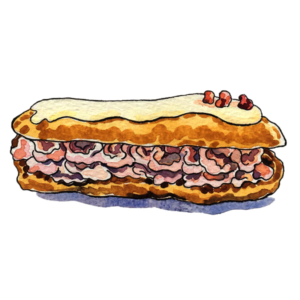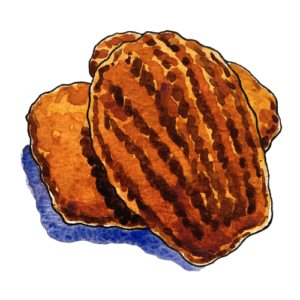 Thank you so much for a wonderful afternoon tea baking session yesterday. Both J and I really enjoyed learning some new skills in your beautiful kitchen. We were able to pick up great techniques and tips that we will definitely use at home, and the bakes were so delicious we couldn't decide which were our favourites! It was so nice to be able to take our efforts home to share with family and friends – and we certainly had enough to go around! – SH
We did Patisserie Show Stoppers, Rachel was a fab teacher and we had such a fun time. We do a lot of baking but have learn new skills we can't wait to try out at home. The course was easy to follow and would be fun for an experienced cook wanting to learn something new as we were or someone new as Rachel made things very simple but fun and interesting. We will be signing up to lots of new classes in the new year – GD
Rachel ran an excellent 1:1 class for our daughter. The class was informative and fun and extremely well organised. H thoroughly enjoyed the whole experience and the results were delicious as well! I would highly recommend Rachel's classes and we will be booking again in the future! – BL

We really enjoyed the class, you're a very good teacher, funny, laid back but super professional. Please let me know if you're organising more workshops, I'd be delighted to attend them! – SFP

Rachel you are an awesome teacher! It was a relaxed fun class during which I learned so much and made some awesome patisseries! – NL

Spent the most wonderful day at The Real Macaron Company learning how to make an assortment of fabulous afternoon tea treats including Macarons. Gaye and Rachel were friendly teachers with great advice and top tips. Came home with a whole bounty of goodies. Highly recommend both the cakes and classes. – MH
Dear Sophie and Rachel, Thank you both so much for making the evening that A and M attended on Friday so inspirational and fun for them both. They came home totally enthused, A has already bought digital scales, and other bits and pieces. They made some eclairs with the raspberry icing yesterday, they were delicious. – JH
Thank you for a lovely afternoon bread making, I really enjoyed developing my skills and loved tasting the results. Thanks again – TW
Thanks again for a fun day. Everyone really enjoyed it – RG
Many thanks for the baking class at the weekend. We have such good fun baking with you. And I've eaten far too much bread these last few days – DM
 A huge thank you to Rachel who did a fantastic job of teaching me how to make naan bread and white chocolate chip brownies over the past few weeks! Given we are currently in lockdown she taught both recipes to me virtually and she did very well in guiding me through the recipes so clearly! I have wanted to get into more baking and cooking for a while and Rachel has provided the perfect opportunity for me to do so! Thank you for being so encouraging and patient- you have helped me realise how fun and rewarding cooking can be! – RV